For video clips from The Lion King click here:
The Lion King 1 1/2
(2004)
This is Timon's story.This movie was better than TLK2 in animation and in the voice characterations. The only voices they were missing were the original voices of Bonzai(Cheech Martin) Zazu(Rowin Atkinson), and Young Simba(J.T. Thomas). It was also narrated by Timon and Pumbaa as if they were watching the movie. They randomly pause and comment on various pars of the scenes. This moive is funny to an adult audience as well as the younger viewers. The DVD extras are funny as well.
The Lion King
at IMAX theathers!
(2002)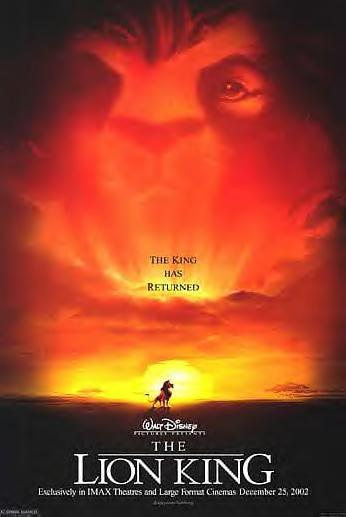 Disney released TLK to select IMAX theaters in 2002. It was an experience to be remembered. If you've never been to an IMAX theater go to one. It's like you are there. Some people get motion sickness. It'll blow your mind.
The Lion King II:
Simba's Pride
(1998)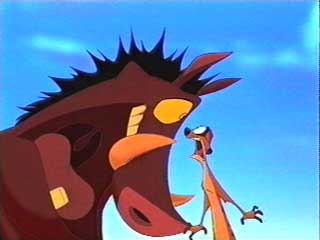 Here's a treat for loyal TLK fans CUT SCENES!
Rafiki's Introduction(8MB):
Zira Trains Kovu(7MB):
Nuka and Vitani Bring News(9MB):
Nuka's Death Scene(5MB):
Zira's Suicide(7MB):
The Lion King
(1994)
Timon was born! Well, other characters were too, but lets focus on Timon a little more. This movie was not expected to become one of the nation's top grossing films of all time. Infact it barely made it to production. I don't know how I would have grown up with out Timon. It's a good thing this movie was and still is a classic.